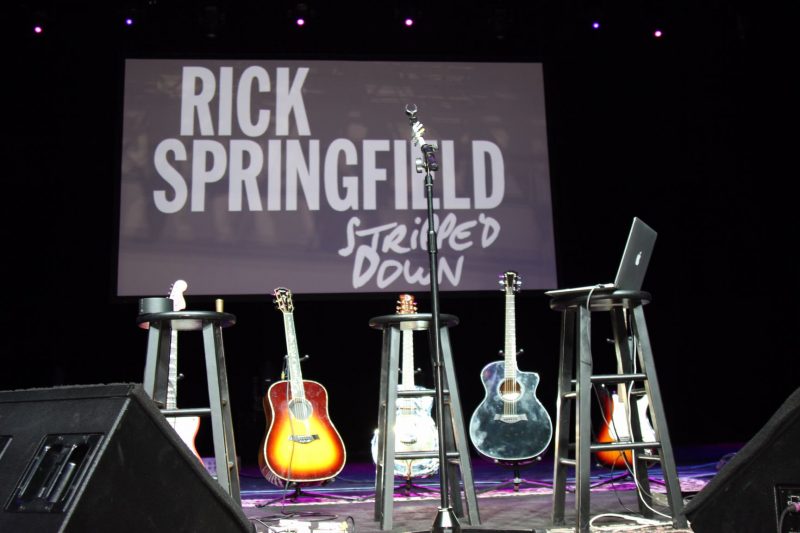 There is no shortage of love surrounding Rick Springfield when you go to one of his concerts. Even more so, there is no shortage of love when Rick is a part of a charitable event.
American Cancer Society Local Fundraiser
We decided to write about this charity event, which happened on March 3, 2016, in honor of the family and friends who continue to fight cancer and in memory of those loved ones we have recently lost to this insidious disease.
Teresa and I are full-time volunteers for the American Cancer Society here in the desert. The committee brainstormed ideas to do something different to add to our annual gala event. The idea of putting on a concert came up and all heads turned my way. "Do you think Rick Springfield would do a concert for us? Can Tim ask him?"  My husband Tim Gross is Rick's keyboard player, but he had only been playing with him for a year and asking for something like this was, well, a bit uncomfortable for him.  So, after agreeing to the idea (without asking Tim of course), I excitedly came home and exclaimed: "We all came up with a great idea tonight. It could be huge! You just need to ask Rick if he would do a charity concert for us! Isn't that great!"  Tim's response: blank stare.
Luckily, Tim was willing to send an email to Rick's management and I brought it up to Rick's good friend, tour manager, and sound engineer Matty. Between the two of them the message was relayed to Rick and his response was, "Let's make this happen."
The ACS committee went to work to find a venue that would give the space for a very discounted cost. Not only did we find an amazing venue, we were told it would be no charge. Yes, The Agua Caliente Casino and Spa THE SHOW agreed to give us the venue for whatever night would work for Rick, their ticketing system, their security people, their crew, and all that would be needed for Rick and his crew to do the gig free of charge.  Needless to say, I was overwhelmed by their generosity and broke down in tears when I was told this incredible news.
Not sure if you know, but there is a HUGE amount of work, time investment, juggling of schedules, and equipment needs that go into performing a concert. (I didn't realize just how much work, but I sure do now!) Since Rick is not the only one involved in this event, we did need to come up with sponsors to help pay for the costs of a concert. We decided to go with the Stripped Down concert where Rick plays on his own and tells stories of his life. I was nervous about this because the full band concerts bring such tremendous energy and I was afraid this one might not impress as much. Boy, was I wrong!
Things were falling into place incredibly well.  Our friend Kim Waltrip and committee member asked Randy Hewitson of Musician's Outlet/SIR for help and he graciously offered to lend us all the guitars, guitar stands, and other equipment needed for the evening. Randy was a well-known local musician and business owner who gave happily to many charities. I say "was" because tragically, we lost Randy just a few months ago. Our community remains heartbroken to lose such a wonderful man.
Venue, check. Equipment check, ticket system, check. Now we needed the sponsors!!
Now to sell the tickets!
Social media advertising began along with our above media sponsors. Ticket sales trickled in and just weren't what we thought they'd be. You see here in the desert most people tend to wait until the last minute to commit to events. This one was no different.
However, my businessman husband ( yes, he has two other careers: He does piano training online and has another internet business as well) came up with a great idea:
Rick had just finished recording his 18th album and one of the songs on it is called "Pay It Forward".  Tim thought if there were people who could afford a ticket and wanted to contribute but couldn't make the show, perhaps they would be willing to "pay it forward" and buy a ticket for a cancer survivor who couldn't afford it.
Tim received approval from the boss and the idea became reality. The love began to spread and the special "pay it forward" tickets were being purchased. Cancer Survivors were told they would be going to the concert and tears of joy were heard through the phone!
So back to the love that surrounds Rick: His fans.  Many of them from all over the country started spreading the word about Rick's Concert for the Cures. They promoted the Pay It Forward themselves (even adding their own bonuses to those who bought!), posting the venue's ticket site, our facebook page, and making posts of their own.
Things were coming together and the ACS staff gave a sigh of relief.
When the day arrived so did Rick and his crew: Matty, George, and Tucker. Soundcheck started and along with those attending the sound check were the Cancer Surivivors who were given the gift of watching soundcheck and meeting Rick.
Needless to say, I was a nervous wreck. Would everything they needed be there? Would the equipment be correct and work? Would the concert go smoothly and be received well? Would Rick be happy with the way it all ended up?
PHEW, soundcheck went well and the first meet and greet was a  big hit!
Cocktail hour was next and many of our beloved celebrities arrived along with our amazing sponsors.
At 7pm, Karen Devine from KESQ came on to the stage as our emcee for the night and introduced the man of the hour and half! The venue lights dimmed and the show opened with a video montage spanning the many decades of Rick's incredible career. The audience watched clips of music videos, TV shows, movie roles, talk show gigs, and his importance to pop culture. The audience was pumped!
Rick came out to a screaming audience and sat down center stage on  a stool with his guitar. It was all a simple set up: guitars surrounding him,  a stool, and a background screen which held the snapshots of his life along with some funny videos to go with his songs.  Rick played his hits such as "Love Somebody", "Affair of the Heart", and, of course, "Jessie's Girl", but it was the stories that captivated the audience. His intimate conversations pulled at heartstrings, gave you belly laughs, and brought on tears.  During the song, "My Father's Chair" which he wrote for his father who had passed away from cancer in 1981, the audience was completely silent listening with all their loving attention.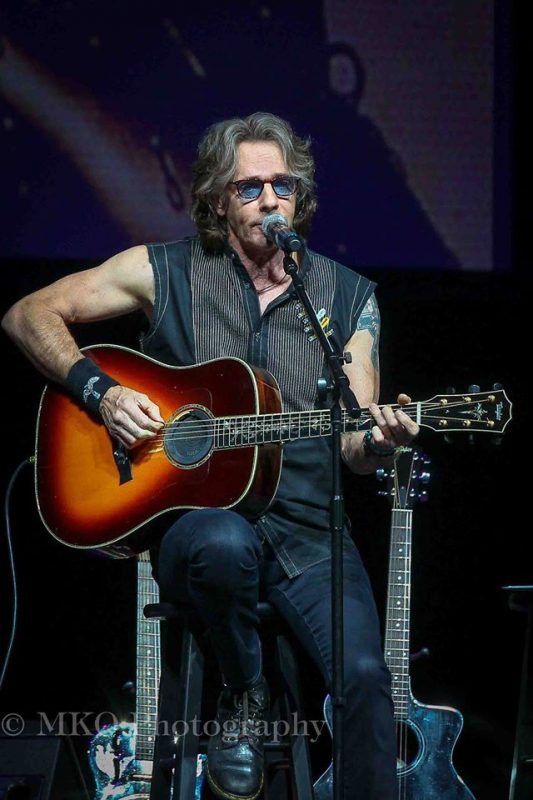 That night many learned who Rick Springfield truly is, a compassionate and talented man who cares deeply for his fans, animals, and helping charities close to his heart.  Many were reassured that their passion for Rick and his music was justified.  Some renewed their Rick fandom, some became new fans.  All of us, though, were surrounded by the love that Rick brought to a room filled with broken hearts from cancer's wrath.
In memory of so many of all our loved ones especially our Desi Cechin and Rick's guitar tech, Ruben Velasco.
To all our loved ones who continue the battle, we love you and are so proud of your strength.
Some photos of the cocktail party ( Thank you committee member John Hussar) and Meet and Greet: