"We have reached the age we can be eccentric and I like it" was a quote that seems to sum up the day for a PS Princess style birthday. 
Yes, it gets hot in the desert, but this particular day was an unusually hot one for June when 8 of Teresa's friends met at her house to begin the birthday celebration. After the gifts were unwrapped and the limo packed with wine and champagne we headed off to Temecula, California.
As we bounded towards the 10 freeway things started to heat up in the limo!
The realization that the A/C wasn't working brought a slight panic to the 9 girls tightly fit into this black stretched mode of transportation.  Brenda quickly contacted the company to find a fix for the toasty situation while Shawn became the designated bartender and popped the first bottle of celebratory cold champagne. AH, there's nothing like the effects of a little champs to cool peri-menopausal and menopausal women.
While the temperature rose inside the limo, so did the frequency of filling up our glasses. Did you really think one bottle was going to satisfy this group? Pop of the bottles, the splash of the mind-calming liquid, and some ice on the skin gave way to interesting quotes, great laughs, and a memorable ride.
Match the quote to the circumstance: 
QUOTES:                                                                 CIRCUMSTANCE:
"It Came Fast"                                              Showing a picture on Iphone
 " It won't go bigger"                                     Closing a champs bottle          
"I can't get it in, Honey, it's not that tight"          Popping champs
Our first stop was lunch at Public House in Old Town Temecula.
 This place has been described as "funky cool" and "chill", just what we needed after a toasty ride! Needless to say, we entered the restaurant ready to party. Luckily, most customers were at the end of their meals so they could escape our enthusiasm.
Of course the meal began with drinks, did you think it would start any differently? Mimosa flights, Roasted Bloody Mary, vodka club with lime all ordered!
The deliciousness continued with our meal orders: Avocado toast, Gem Lettuces, Public House Fries, Whimm Mac N' Cheese, Fried Brussels, Wheatberry Risotto, and Public House burger! Yes, we ate it all and it was GOOD! Oops, we forgot to take pics of the food!
Driving upon the 38 acre winery, we could hear the angels sing.  Greeted by the grand fountain, which some of us would indulge in later, we entered a large wine tasting room with a rustic Tuscan decor.  The "bartender" welcomed us with an abundance of tastings in glasses we were certain were filled a bit higher than normal.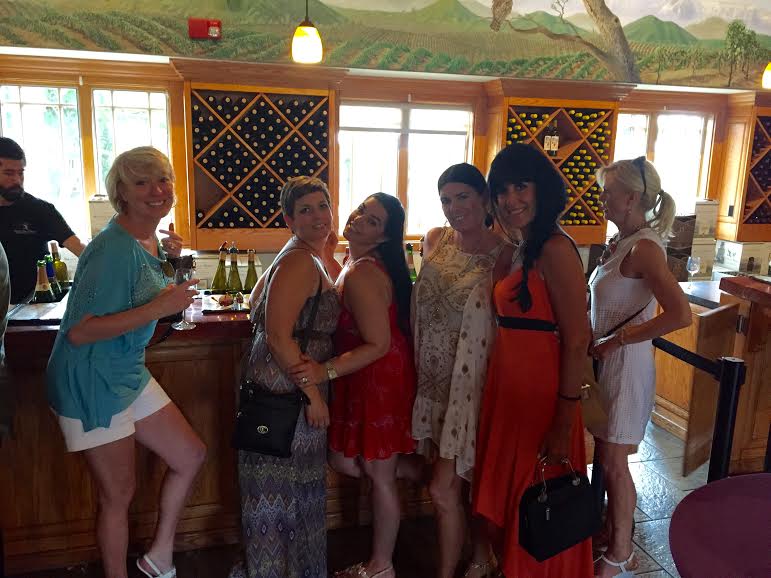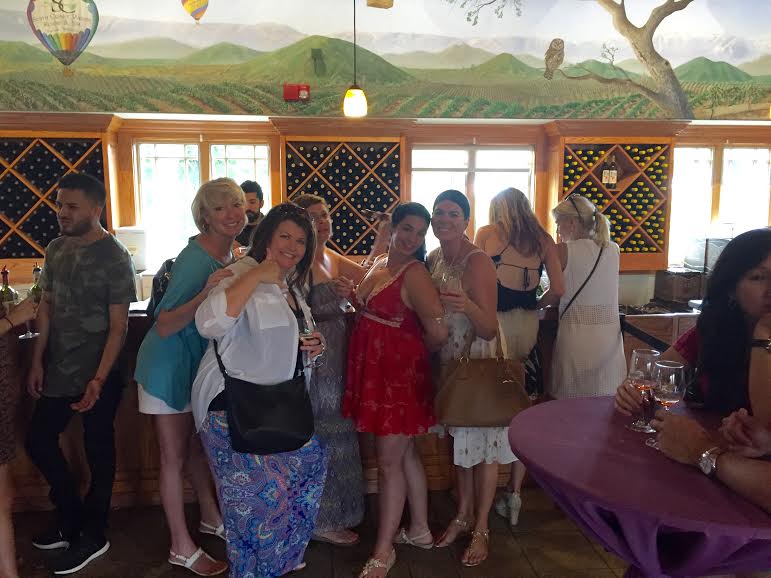 While some of us were tasting away, others went out to play!
After frolicking in the fountain, we decided it was too late to get to another winery ( most were doing last call at 5pm) so we ventured back to Palm Springs to continue the celebration.
Even though we battled the heat outside and inside the limo, the day was wrapped with a mutual love for our PS Princess Teresa which created a fun, silly, and lighthearted day.  Nine women geting along in a steamy limo with an amplitude of libations is quite awesome. This isn't your Real Housewives episode!