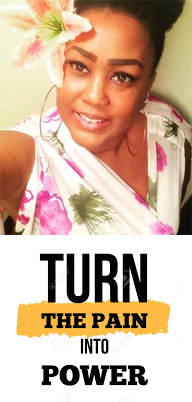 She rose from a diagnosis of a chronic disease and a bout of depression to standing above the pain with a new found strength.
Aneka Brown was  interested in fashion at an early age.   As a child she enjoyed creating new outfits for her dolls and  the possibility of becoming a designer was born  in her ninth grade Home Economics class.  On a school field trip she was immediately drawn to brightly colored African fabrics.  The attraction to these African fabrics would be reawakened later in her life.
While in college, Aneka pushed the idea of fashion to a wardrobe in the back of her mind as she pursued her degree in early childhood education. She would become the director of the Palm Springs Child Care Development Center and mother to two sons.
It wasn't until after the medication she was prescribed to control her COPD  and adult onset asthma that the door to the wardrobe swung open.  The prednisone was controlling her lung flare ups but causing massive amounts of weight gain.  The frustration of not being able to find chic clothing sparked her creativity to design a jumpsuit around "hammer pants".  The idea to conceal this weight gain served as the  catalyst for the birth of Aneka Brown Designs.
Teaching herself how to sketch and finding a factory that would produce the jumpsuit sample in a few different colors was the first step towards not only a change in her attitude but a change in her career.  Once her "sister" Keisha showed interest in the jumpsuit she helped convince Aneka that this was her calling. So with  just $250, Aneka Brown Designs was born.
Her school days attraction to the vibrancy of African Wax Cloth entered back into her artistic vision.  Despite the voices of naysayers who felt using the this cloth would limit her clientele base and telling her to "tone the ethnic" sensibility of her work, she took their words as a challenge to educate.
Aneka buys her fabrics through a fair trade system networking various villages and countries in Africa like Nigeria, Ankara, and Madagascar which are all handmade by women.  The money made here goes back into educating the girls of the villages.  Using the traditional African Wax Fabrics and seeing her creations donned by her clients  brings her a great deal of pride and joy.
Through her designs, Aneka strives to provide positive imagery of African Americans to combat the negative  stereotypes that are propagated and pushed by mainstream media.  Aneka makes it her mission to bring together men and women, a multi-ethnic, multi-age, and multi- clothing size group to represent her line when she composes her fashion shows.  Her goal is to promote UNITY, LOVE, AND RESPECT.
In reviving her love of fashion, advocating for both men and women, all ethnicities and all body types, she learned to love herself.  Aneka continues to persevere through the inspiration from the women she has admired such as Dorothy Dandridge, Nina Simone, Grace Jones, Josephine Baker, Diana Ross and Trina Parks.  She believes there are always goals to reach for and that life should be lived to the fullest.  "I'd love to aim to grow Aneka Brown Designs into a Lifestyle Brand that will one day be on store shelves from Target to Saks." Aneka not only dreams for a multitude of  people to wear her designs but also for them to celebrate and embrace them.
"It's always been my belief that education is the only tool that can be used to combat racisms. Learning about, acknowledging and being exposed to different ethnicities makes for a better society."
When asked for her advice on living life she simply but beautifully says, "Never compromise your values, dreams, or goals. STAY TRUE TO YOURSELF AND TO YOUR WORD."
Aneka's words need to be heard by all, often.
You can find Aneka Brown Designs on facebook or at Anekabrowndesigns.com
Shop at her online boutique here: Aneka Brown Designs boutique